January 8, 2010
Le Merce – Barcelona
Yesterday I woke up in the middle of the night. With no special reason… but somehow I had the urge to change today's entry in my blog, which I had prepared some days ago. I wanted to start 2010 sharing something personal with you… if you allow me to do so.
On an evening in June last summer my son Emre, who is living in Barcelona, asked me if I could help him. For a father such a question can only have one answer. Of course I immediately asked about the content of this help request. "I will be giving a concert in Barcelona in September" he said, " and my band needs a keyboard player. You are the best fit."
Being an amateur composer for many years I had never played in front of a live audience. As a child I had dreamed about it. As a man having already lived more than half of a century I had saved that dream for the next time. We gave the concert on September 26th during the festival of Le Merce in Barcelona. The proof is below. The guy with the hat on the right side of the picture is me.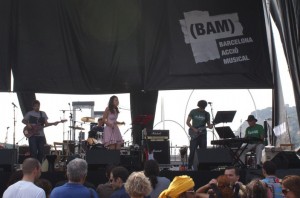 Let's wind my life back for more than 25 years. One evening after returning home from a long business trip I was amazed to see how tall my son had become. He seemed to have grown a couple of inches since I had watched him with attention the last time. It was a time when I had 5 companies and was working at my limits. I think that was the moment when I decided to sell some of my companies and devote the time to be gained to watch the growth of my son.
After so many years… sitting on the stool at the keyboard on the stage in Barcelona… the dreams of a child was getting realized. Thanks to his child…
Are you a business owner? I am sure you are working hard. Do you have children? If yes…I would advise that you do not miss to watch them grow. I found the solution in selling some of my companies. Maybe you have another solution. I think you can never be too late because they will always continue to grow.
I am very proud of my son.